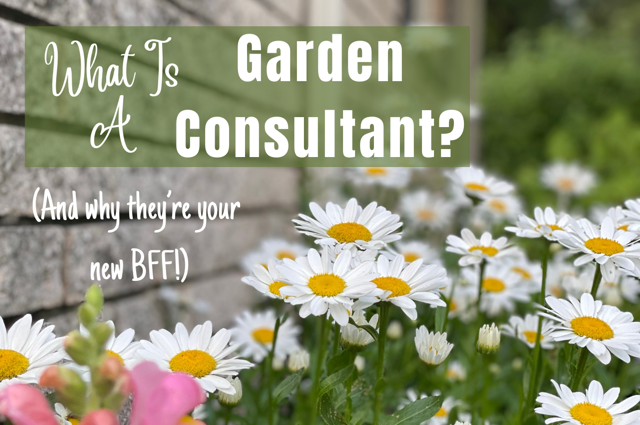 What is a Garden Consultant? And why they're your new BFF
(Are you looking to book a garden consultation or discovery call? You can find that info here)
If you're new to gardening since the beginning of 2020, you're not alone. I recently heard that low estimates claim some 20+ million Americans started gardening during the pandemic, reviving what was becoming a dying industry.
Many of us have fond memories of our grandma or grandpa in the garden, or maybe even our parents. But for a lot of us, our lives were way too busy and chaotic to try our hand at growing our own tomatoes.
Until we found ourselves stuck at home, months on end, with nowhere to go and no people to see.
Enter the gardening boom! Seed sales were triple their normal revenue, gardening centers were selling out of stock in days, and gardens were popping up in backyards all across the country. It makes my heart flutter with joy just thinking about it!
The thing with gardening, though, is it takes a little bit of knowledge and know how to be successful. You're keeping something alive, after all, and that can take some finesse. It's not hard to garden, but there's something to be said for having advice handed down from someone who has a lot more experience under their belt.
Enter the garden consultant (also called a garden coach.) Garden consultants are experienced gardeners who are there to ensure your success, help you achieve your gardening goals, and give you some direction and tailored advice during the garden season.
What is a Garden Consultant?
A garden consultant is an experienced gardener trained to help you define your gardening goals, come up with a plan tailored specifically for you to achieve those goals, and help you every step of the way.
They're available to answer questions, offer wisdom and advice, and ensure your success. Some garden coaches may also offer "turnkey services," installing and setting up gardens for their clients.
What does a garden coach do?
A garden coach uses their extensive knowledge, experience, and training in the garden to act as a garden mentor to new gardeners or new homeowners. They guide them in choosing the right plants for their landscape, advise them on how to grow a garden in their local climate, and answer any questions they may have.
A garden consultant will usually begin with a consultation, coming out to your home and viewing your gardening space in person (these consultations can also be done over zoom.) They'll ask you about your experience, goals, successes and failures.
If you are considering adding a new garden, they'll help you choose the optimal location for what you'd like to grow, and measure the space you have available, giving you an idea of your options. These initial consults typically last an hour.
After the initial consult, the garden consultant will put together a custom plan just for you and your goals. They may also provide material about your local climate and growing conditions, best plant nurseries in town, and other helpful information.
You will meet with your garden consultant a few times throughout the growing season, to check in on how you and your plants are doing, and answer any questions you may have. They'll also offer personalized advice, based on your goals and current garden.
Benefits of hiring a garden consultant
Hiring a garden consultant is so valuable to your success in the garden. They want you to succeed, and will help you every step of the way to ensure that success.
Garden consultants are also:
Knowledgeable about your particular climate and growing conditions. They know exactly what it's like to grow tomatoes in hot, dry conditions, or in a cool, wet climate. They know how long your growing season is, and how that affects what you can grow and when you can grow it. They're familiar with first and last frost dates, common garden pests in your area, and native plants. They are a wealth of information, and they're happy to share it with you.
Have experience with growing things and being a gardener. They know the best plant nurseries, and where to buy your seeds. They know how far apart to space your plants, and which plants are buddies in the garden and which ones do best far apart. They know all of this, and they want to help you know it, too!
Able to customize a plan just for you. Maybe your garden goals are simple, and you just want to grow really good tomatoes, and some salad. A garden consultant will create a plan for that, and share the knowledge you'll need to be successful. But maybe you want to do more, and grow a variety of fruits and vegetables to feed your family. They can help with that, too! Your goals and your success are their focus, and they will create a custom plan to ensure that success. They will help you get set up, and offer advice and guidance throughout the growing season.
I'd also like to add that there are many different specialties, or areas of focus, a particular consultant may have.
Some garden coaches focus on kitchen gardens and raised beds. Others specialize in butterfly or pollinator gardens. Some may focus on annuals and perennials, or balancing ecosystems. Before hiring your consultant, ask them if their specialty lines up with your goal.
How to find a garden consultant
Good news! I offer garden coach services and coaching packages, to bring you personalized help and ensure your success. I am a Gardenary certified consultant, Master Gardener through Michigan State University Extension, and a professional gardener. You can read more about me here.
Gardening is my life, and helping you find success is my passion!
I offer consultations and coaching packages, where we connect through zoom or Facetime. I will also be available anytime through email. After our initial consultation, I will create an action plan just for you, based on your experiences, goals, and potential struggles. If that sounds like something you're interested in, you can read about more about my garden consultations and coaching services here.
My specialty is helping new gardeners learn the basics of gardening, and gain success and confidence in growing their dream gardens. I also help gardeners with a few years under their belt overcome any challenges, and work towards their gardening goals. I have extensive knowledge in the garden, along with a heart for teaching, which means success for you, along with the garden of your dreams!
If you're in southeastern Michigan, and interested in in-person garden coaching, let's chat! You can connect with me by emailing Liz at [email protected]. I also offer raised bed installations and professional gardening services.
If you have any questions, feel free to reach out through email and I'd be happy to answer them! You're also welcome to join the Learn To Grow Gardens facebook group, filled with a community of gardeners just like you!
Finally, I'd love to send you my email newsletter, filled with gardening tips and seasonal advice. As a thank you for subscribing, I'll send you my free printable garden planner pages! You can subscribe through the form below, or by clicking here.
Happy growing!
What Is A Garden Consultant? And why they're your new BFF!