Hello, and welcome to Learn To Grow Gardens!
My name is Liz Will, and I'm so glad you're here!
I started Learn To Grow Gardens for YOU, because I'm passionate about growing beautiful, productive gardens, and helping you do the same! Your success in the garden is my passion, and nothing brings me more joy than watching new gardeners learn to garden with confidence and success.
Learn To Grow Gardens may be new, but my gardening obsession is definitely not! I started gardening over 10 years ago, and I love to grow everything from tomatoes to hydrangeas. I discovered that I also love helping others feel confident in the garden, and helping them to successfully grow the gardens they've been dreaming of.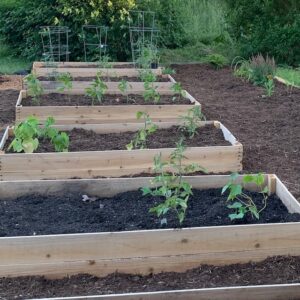 What started as a hobby for myself grew into a passion that spread to those around me. Before I knew it, people were messaging me on facebook with gardening questions and texting me pictures of their garden successes. I loved it!
I also discovered a huge need for "garden help" and in 2020 I decided to become a garden coach, and spend my life teaching others to successfully garden. I've since taken the Master Gardener course through Michigan State Extension and the Garden Coach Society Garden Coach certification through Gardenary.
I also started professionally gardening for homes and businesses in my local area, and my days are now filled with gardening from sun up to sun down! My family says I'm gardening obsessed, but I see it as a calling. Gardening is such a huge joy in my life, and I love that I get to help others find that same joy!
Finally, I started a gardening blog on this website, where I write gardening articles to help gardeners of all kinds learn to grow better gardens! You can find our most recent and seasonal articles here. There are articles for outdoor gardens and indoor plants. I also contribute to articles for other publications, including House Digest, The Epoch Times, and Homes & Gardens. You can find each of them listed here.
When I'm not in my garden, I'm spending my time with my husband and 3 teenagers in Michigan or traveling to North Carolina to see my oldest daughter, son-in-law and granddaughter. My parents and sisters also live in North Carolina, and I love traveling to see my family and enjoying their beautiful state! I'm a Midwestern girl at heart, though, and I enjoy coming back home to my zone 6 gardens and cooler weather! 🙂
I'd love to connect and chat about gardening. You're always welcome to email me at [email protected]. I also have a Facebook group where we share gardening stuff, and I offer tips and tricks and gardening advice. You can find the facebook group here. And finally, you may enjoy my email list, where you'll have gardening inspiration, tips and ideas sent right to your inbox. As a thank you for subscribing, you'll receive a FREE set of my garden planning pages! You can sign up here, or through through the form below.
Before you go, please feel free to look around and check out our blog. New articles are added each week, full of tips and advice to help you find success in the garden. One of my favorites is 25 Ways To Make Plants Grow Bigger And Faster.
And finally, you're always welcome to shoot me an email with questions. You can send an email right to my inbox by emailing me at [email protected] If you have more than a few questions, and would like to jump into a garden consultation or garden coaching, you can find more information here.
Thanks for stopping by, and Happy Growing!