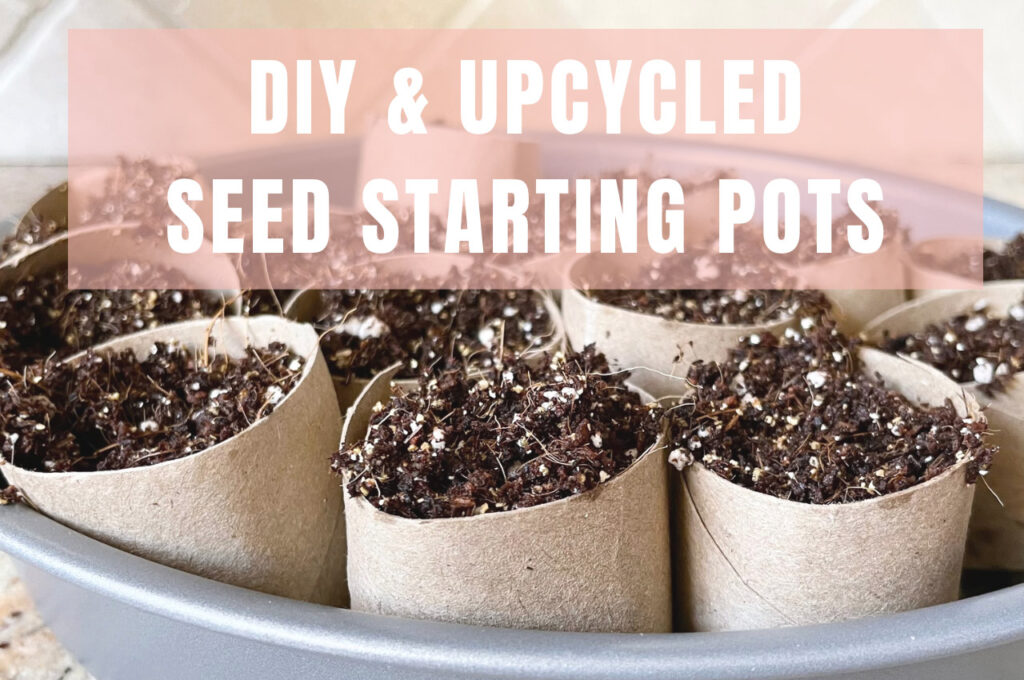 27 DIY Seed Starting Pots: Cheap & Easy Ideas For Starting Seeds
This post may contain affiliate links. You can read my full disclosure here.
It's no secret I love starting my own seeds. I even have a handful of blog posts related to seed starting (you can find all of them here) including how to start seeds and how to make your own seed starting mix.
Starting plants from seed is a huge money saver. Plant starts can run $3-4 a piece, which is about the same price as a single packet of seeds.
In addition to starting our own seeds, we can also save money by DIYing or upcycling the containers we start our seeds in. Although I like my trays and 6-cell containers, there are many times I DIY the individual containers I plant my seeds in. It's cheaper, and a lot of the items I always have on hand. I'm also looking for alternatives to peat pots, since harvesting from peat bogs is unsustainable. Plus, I like to get a head start on starting seeds with winter sowing. Several items on this list are perfect for winter sowing!
An added bonus to DIY your seed starters is that it's a fun activity to do with kids. Planting seeds in homemade or upcycled containers is perfect project for small hands. A lot of these ideas come from objects you have laying around your home, so it can even be a fun rainy day activity to tuck away for later!
Plus, kids love growing things from seeds. It's a fun hands-on, educational activity your whole family can enjoy. And then you get to eat the literal fruits of your labor!
A few seed starting tips
When starting seeds, it's best to use a mix formulated specifically for seed starting. These mixes are light and fluffy and finely textured, which makes it easier for delicate seedlings to push new roots through. You can purchase seed starting mix at garden centers, or at Amazon. I have used this mix with success. You can also make your own seed starting mix for much less money, and using just 3 ingredients.
When starting seeds, you want your mix to hold moisture, yet drain well. Seeds will die quickly if they're either too dry or too wet.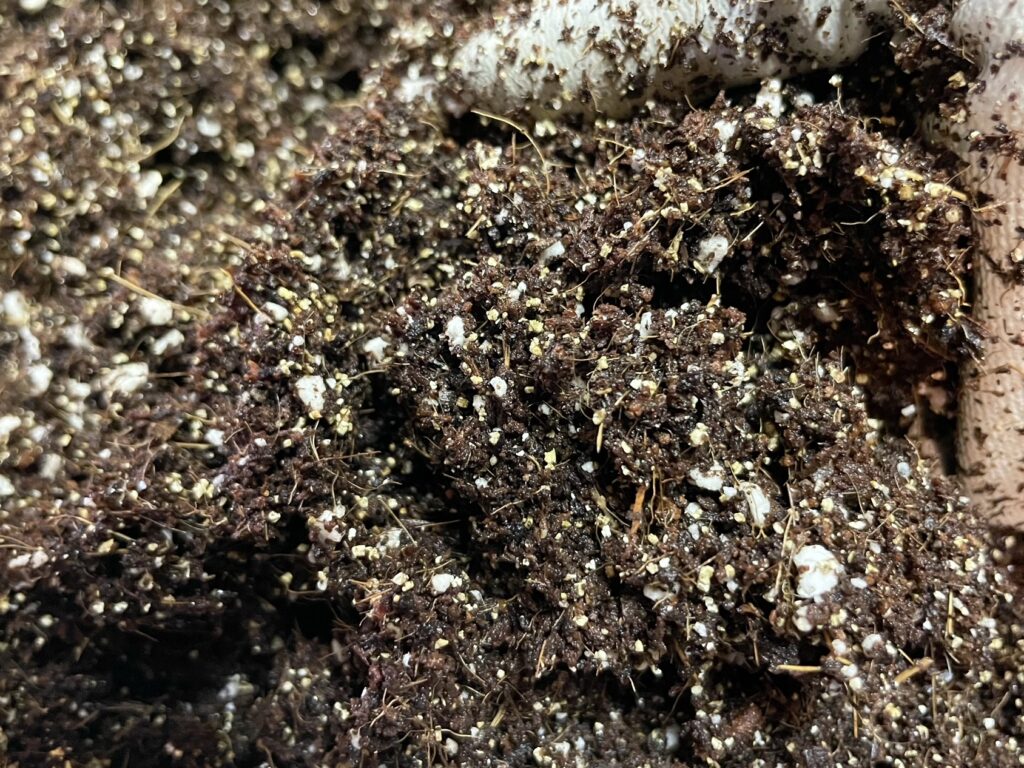 Finally, you want them to be relatively warm while germinating. This is especially true for heat lovers, like pepper seeds. A heat mat works in a pinch if your house tends to be cooler than 70°.
If you've tried starting seeds before and had trouble getting them to germinate, you may want to start seeds using the paper towel method and then transfer them to one of these containers. This gives seeds the ideal environment for germination, and increase your chances of success.
DIY & Upcycled Seed Starting Pots
Let's get to the list!
1. Cardboard egg cartons – Egg cartons are great for seed starting! The little egg-shaped cells are the perfect size for starting small seeds. When you're ready to plant, cut each cell apart with a sharp pair of scissors. You can plant the entire thing in the ground, because the cardboard will break down over time.
2. Newspaper seedling pots – I have a tutorial for newspaper seedling pots, because it's one I love. Newspaper pots are super easy to make, almost free, and are great biodegradable pots. They're also great for sensitive plant roots, because the entire pot can be planted in the ground. This prevents root shock, which can happen when roots are moved from their starter pots and planted into soil.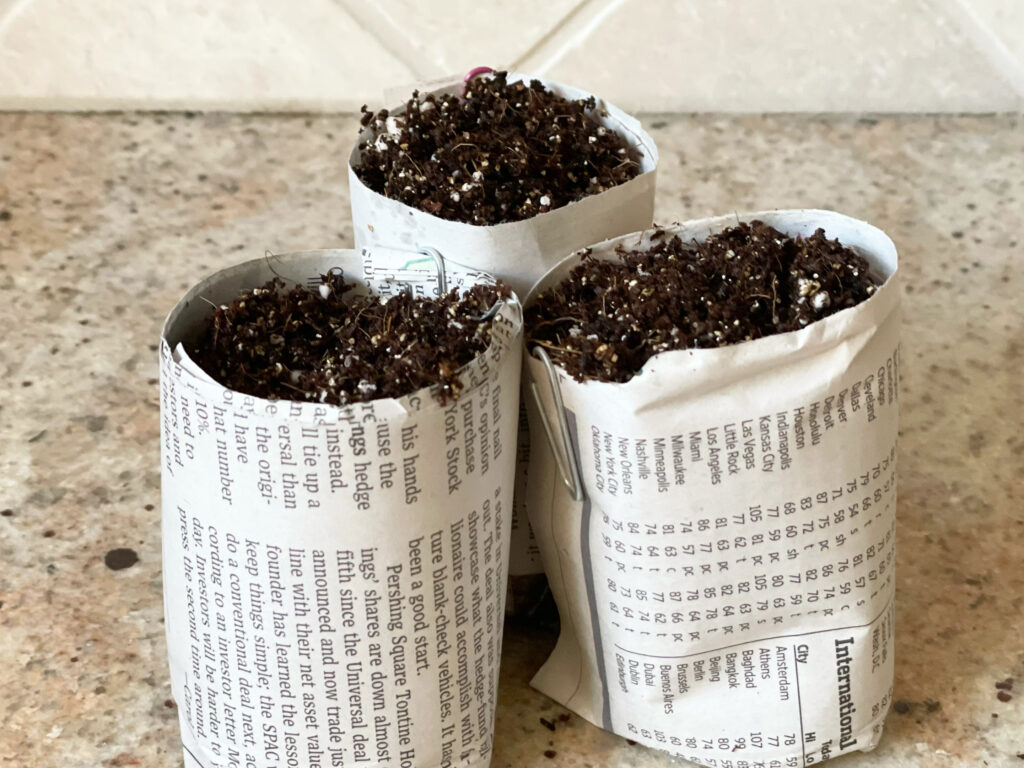 3. Plastic milk jug – I have a tutorial for this one, as well: Using milk jugs for winter sowing. Winter sowing is a great option to start cold weather seeds, especially those requiring cold stratification.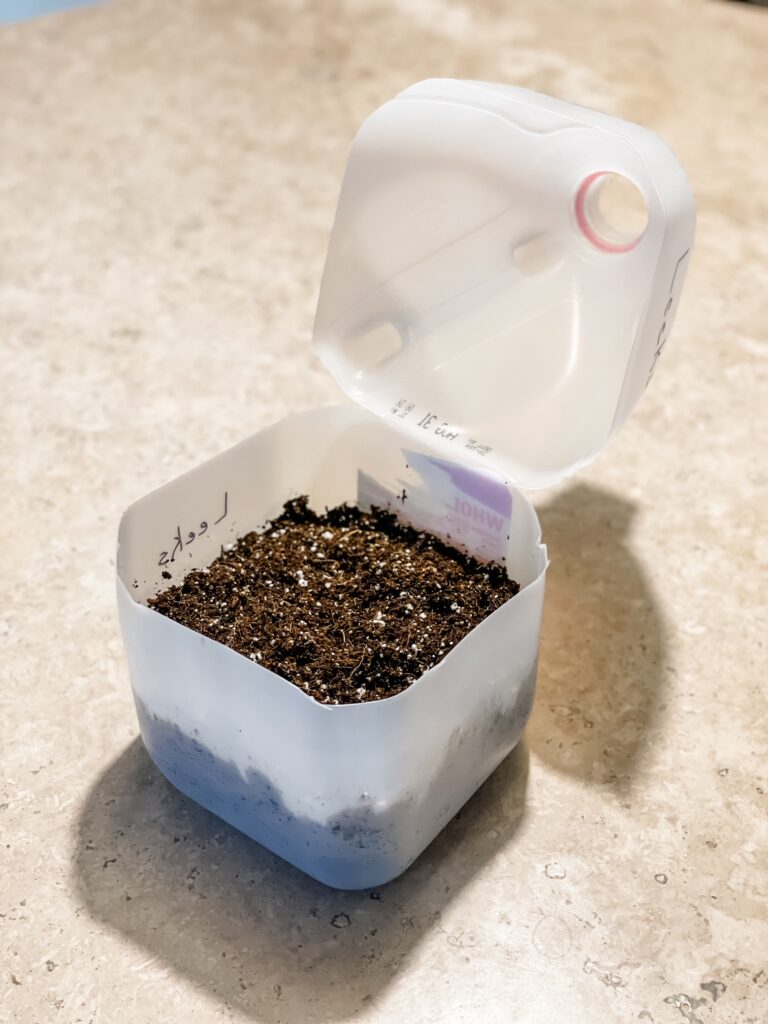 Seeds are planted in January or February in milk jugs, and placed outside, where the milk jugs act as mini greenhouses. The seeds will sprout in their own when the daytime temperatures start to warm up. Aside from winter sowing, milk jugs can be cut in half and the bottom used as a tray for seeds. Just be sure to poke holes through the bottom for drainage first.
4. Egg shells – Egg shells are another fun seed starting idea. After cracking and emptying raw eggshells, give them a good rinse to wash away any traces of raw egg. Fill each egg shell with a bit of seed starting mix and plant your seeds. The shells can be stored in egg cartons until it's time to plant them in the garden. When planting lightly crush the egg shell to allow the roots to spread, or gently remove your seedling from the shell.
5. Ice cube trays – Ice cube trays are a good option for tiny seeds that will be going in the garden shortly after germination. If seeds remain the trays for too long, the roots may become root bound.
6. Toilet paper rolls – Toilet paper tubes are another option that protects sensitive roots. The entire little pot can be planted in the garden, and the cardboard will break down, allowing the roots to spread.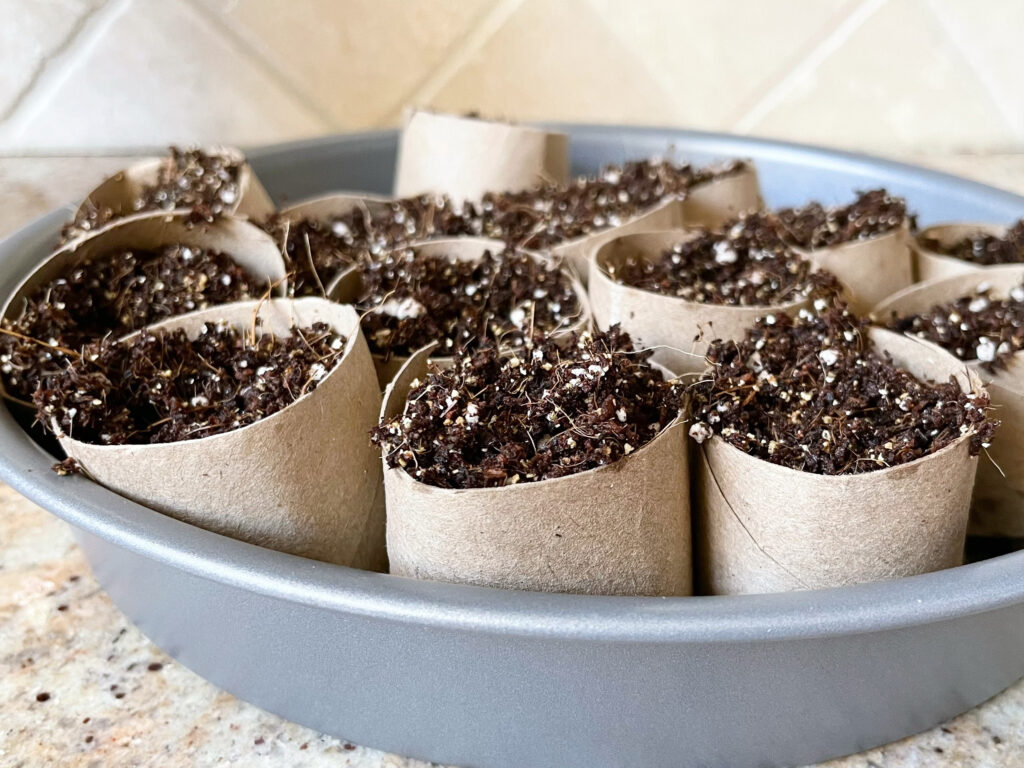 7. Water bottles – Water bottles and soda bottles are an upcycled idea that can save you money on seed starting pots. To use them, cut the top portion off and toss it in the recycling. Poke a few holes in the bottom of the water bottle and fill with seed starting mix. Plant your seeds as usual.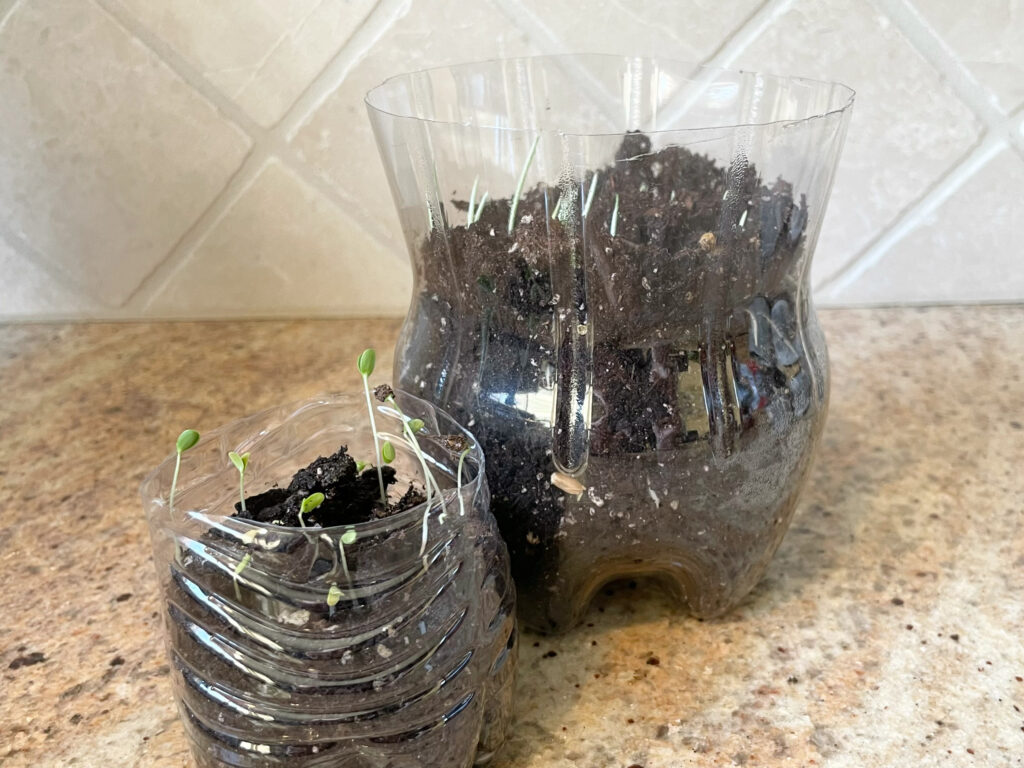 8. Muffin pan – Muffin pans are great for seed starting because each muffin hole is the perfect size to start a seed. If you line each one with a muffin paper before adding soil, it will be easier to remove them at planting time.
9. Clamshell containers – Clamshell containers, such as those used for strawberries or blueberries, can be used for starting seeds, as well. They already have holes in the bottom for drainage, and can be filled with soil and planted in.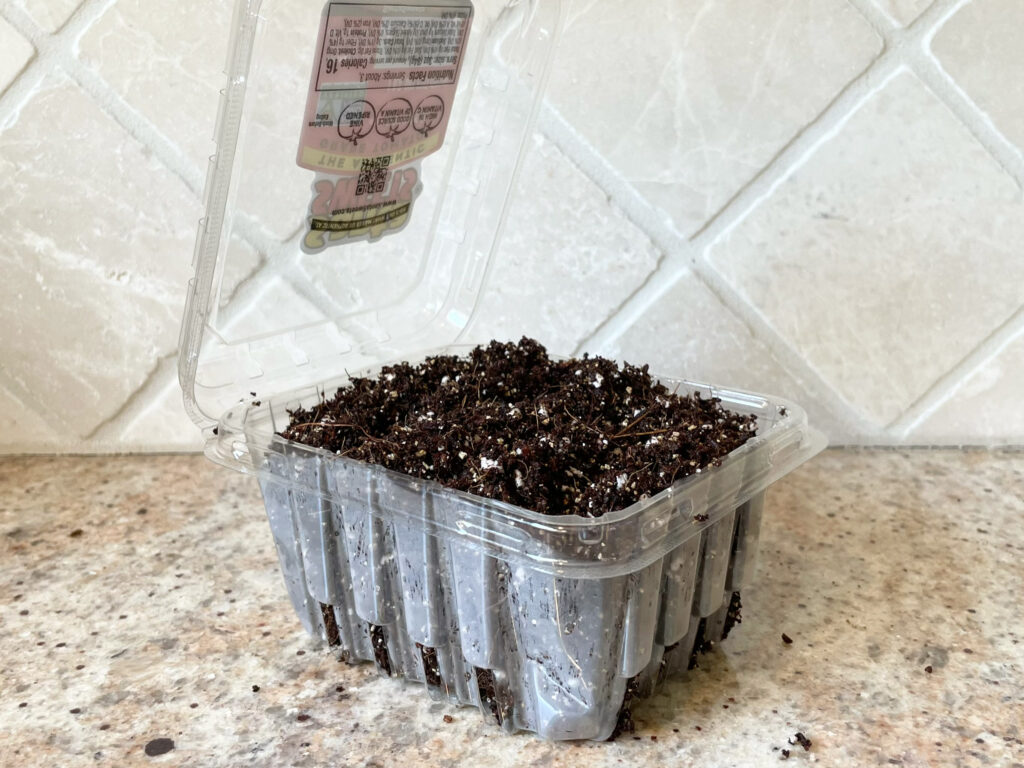 10. Paper towel rolls – Paper towel tubes are the same idea as toilet paper tubes for seed starting. After finishing up a roll of paper towels, save the inner tube. Cut each tube into several smaller rolls, and fold the ends in. Fill with soil and plant as usual.
11. Yogurt containers – Yogurt cups make great plastic pots for seeds. Poke a few small holes in the bottom of the pot for drainage, fill with soil, and plant your seeds. When you've moved your seeds to the garden, wash and sanitize them and store for next time!
12. Rotisserie chicken containers – Rotisserie chicken containers are another idea that's great for winter sowing. The bottom of the container can be planted in, and the clear top turns it into a mini greenhouse. Don't forget to poke holes in the bottom for drainage. If temperatures rise, remove the lid to avoid overheating your seedlings.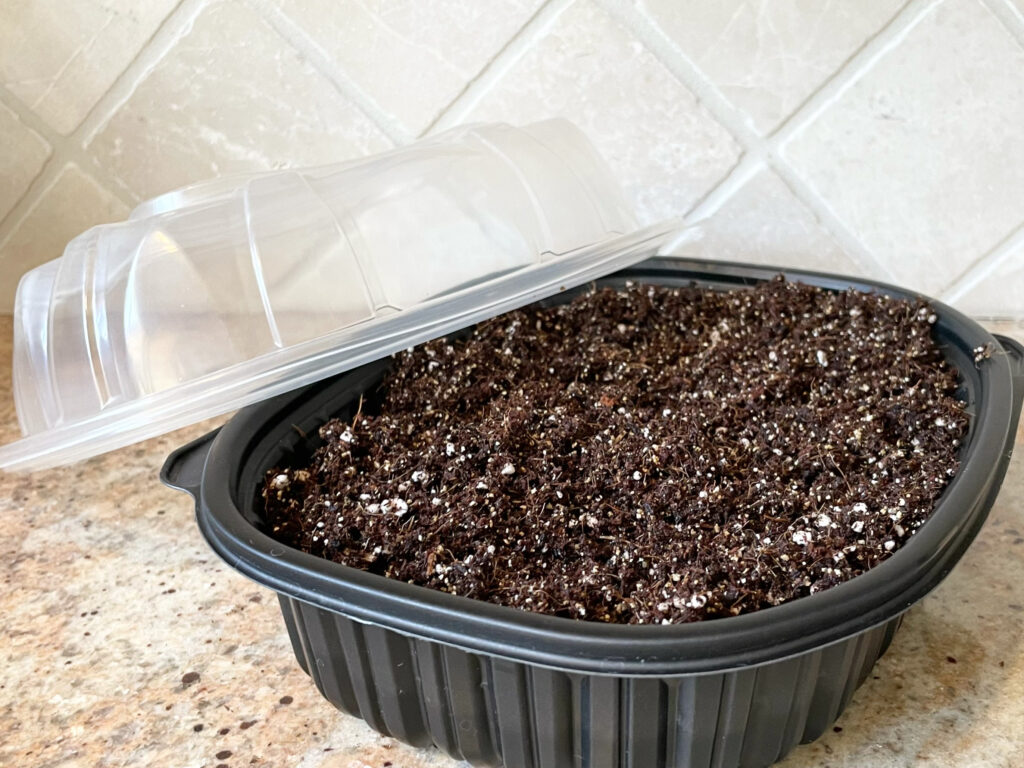 13. Citrus peels – Citrus peels are a cute seed starting container idea, even if they're not the most practical. Before planting your seeds, rinse the peels from your citrus fruit really well to wash away extra citrus juice, which can be too acidic for tiny new roots. It's best to remove your seeds from the peels before planting, as well, as the peels may take too long to break down in the garden for the roots to properly spread out.
14. Chinese takeout containers – Chinese takeout containers can be use in a similar way to plastic water bottles or yogurt cups. If the container is too tall, cut it to size before planting, and add drainage holes.
15. Plastic cups – I've used plastic solo cups on a lunch more times than I can count. They're especially good for when seeds need to be moved up a size from their starter pot, but I don't have enough pots for every seed. Plastic cups it is! They can be labeled with a sharpie right on the side of the cup, and holes can easily be added to the bottom for drainage.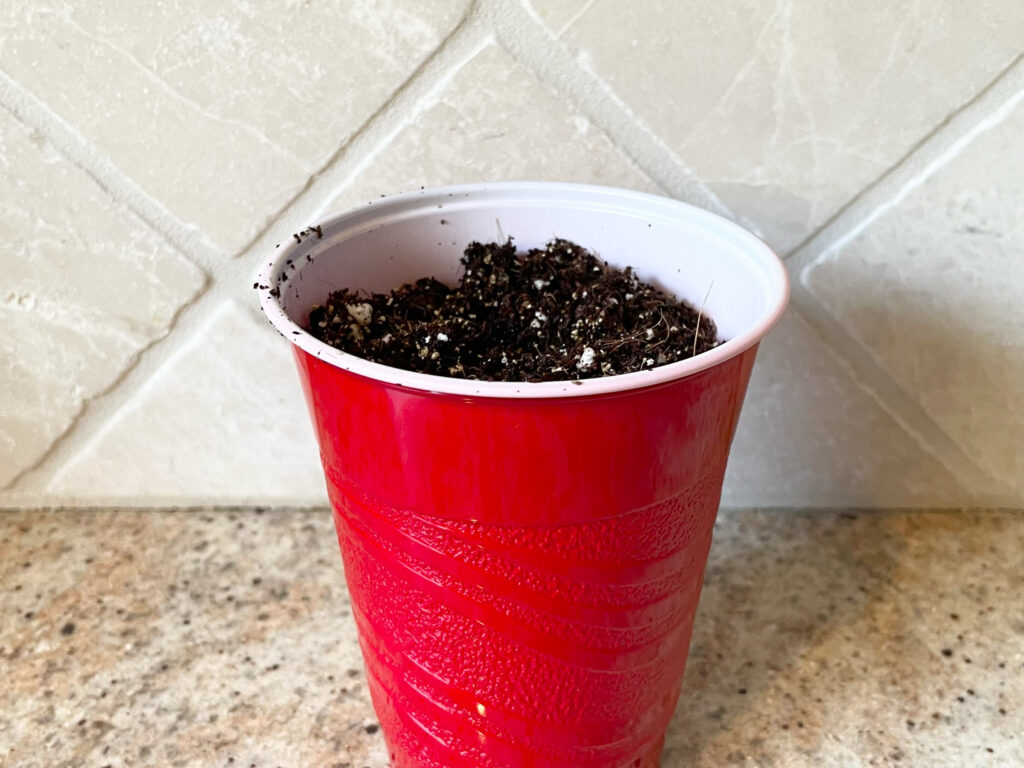 16. Ice cream cones – Again, not the most practical, but definitely cute! An added bonus is that they will quickly break down in the garden once they are planted.
17. Upcycled cardboard juice or milk cartons – Juice or milk cartons made from coated cardboard are great for holding soil and seeds. You can cut them to size and space out your seeds when planting. When it's time to move them to the garden, remove from the carton and gently pull the seedlings apart, being careful not to harm the roots to much. Plant as usual.
You may like these other seed starting posts:
18. K cups – I've heard that, surprisingly, k cups are not recyclable! I haven't looked into this, as I'm in love with my pour over, but the individual cups are a great size for starting tiny seeds. Don't forget to poke holes in the bottom first!
19. Mason jars – My son thinks mason jars are the answer to everything from extreme thirst to planting up his succulent collection, and he's often stealing them from my jar cupboard. He may be onto something, though. Tiny jelly jars can be used for starting tiny seeds. They don't drain, unfortunately, but if you're careful not to overwater, you might be able to make it work. I wouldn't go much larger than a 4oz jelly jar, or you might have trouble removing your seedlings at planting time.
20. Old potting trays – What's a better upcycled seed tray than an old seed tray?? The trick here is to save plastic trays that are more solid than some of the super cheap ones out there, that crush with a light touch. You also want to wash and sanitize them before use, to eliminate any harmful bacteria that could hurt your seedlings.
21. DIY soil blocks – Soil blocks can be tricky to figure out at first, but people who use them rave about them. Soil blocks are supposedly great for plant roots and eliminating or reducing transplant shock. You can find a tutorial here. They do require the purchase of a soil block maker, but one block maker should last a lifetime.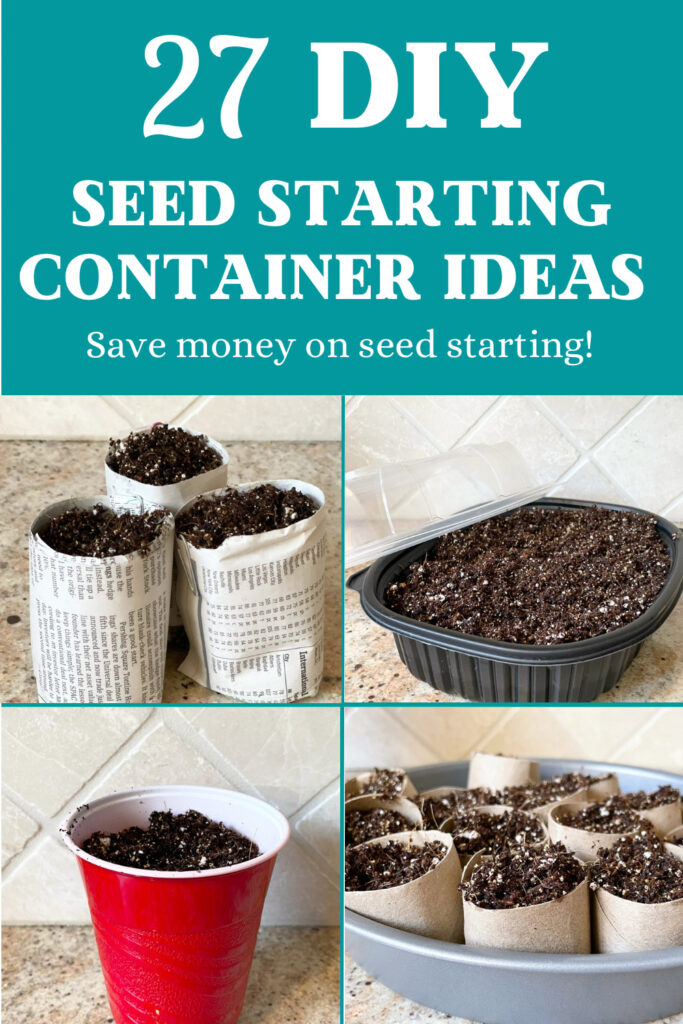 22. To go cups/Starbucks – Another idea for reducing household waste, to go cups make great seed starting containers. They're also a great option for planting into when seeds are a couple inches tall and ready to move up a pot size.
23. Avocado skins – Avocado and citrus peels are similar ideas, but avocado peels have the bonus of not being acidic. You can plant directly into them, and remove the plants from the peel at planting time. The peels can then be tossed into the compost.
24. Paper pulp pots – This may be the most labor intensive idea on this list, but the pots are great for tiny seedlings. They can be made any size (a muffin tin would make a great mold!) and planted directly in the garden. The paper will break down shortly after planting, allowing the roots to easily spread out. Find a tutorial here.
25. Paper cups – Paper cups are great when you're in a pinch and need a quick idea for seed starting containers. If the cups are coated, your seedlings will need to be removed before planting. If they're uncoated cups, they can be planted right into the soil. The paper will quickly break down.
26. Plastic containers – Who doesn't have a few food storage containers with missing lids? Turn them into seed starting containers! Poke holes in the bottom for drainage and plant the same as the milk cartons in #17, gently breaking apart seedlings at planting time. When you're done, wash and sanitize them and save them for next time!
27. Foil baking pans – Foil baking pans such as these ones are great for starting dahlia tubers, but they can also be used for seedlings! Poke a few holes for drainage (have I said that enough times? It's really important!) and plant your seeds. Foil baking pans would also be great for baby greens that can be planted in clumps in the garden.
There you have it! 27 DIY seed starter pot ideas, both upcycled and DIY. If you have another idea I missed, leave it for us in the comments!
FAQ
How do I keep my seed pots from dripping water when I water them?
I recommend placing your DIY pots in a waterproof tray. I love using these 10 20 seed trays for starting seeds (and for growing my own microgreens.) You can add water directly to the seedling tray, to prevent your newly planted seeds from washing away while watering. If watering from the top, allow your containers to drain and then pour off any excess water that collects in the bottom of the tray.
What can I use instead of seedling trays?
If you're looking for DIY seedling trays, as well, there are several options. Foil pans for baking double as seed trays, along with plastic storage containers. Baking pans, paper plates, and plastic lids from storage containers also make great seedling trays.
As an Amazon affiliate, I earn from qualifying purchases.
27 DIY Seed Starting Pots: Cheap & Easy Ideas For Starting Seeds