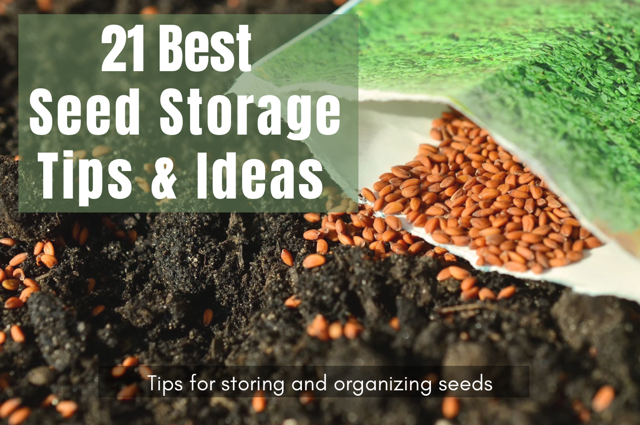 21 Best Tips For Storing and Organizing Seeds
This post contains affiliate links. You can read our full disclosure policy HERE.
Seed starting is a great skill to learn when you've been gardening for a bit. It not only saves you money compared to buying plant starts, but it also opens a whole new variety of things to grow in your garden. There are some pretty neat seed varieties available online (such as those you can find at Baker Creek. They even have their own seed vault, where they sell over 1500 varieties of heirloom, unmodified plant, flower and herb seeds!)
When you're ready to start your own seeds, it can seem a little overwhelming at first. How do you start seeds? How should you organize them? How long do seeds last?
Fortunately, I've rounded up 21 of the best tips and ideas for storing and organizing seeds!
Before we get into the list of the best seed storage ideas, did you know I have an entire post on how to start seeds indoors? If you're new(ish) to starting seeds, bookmark that post for later!
For now, let's get into the best tips and ideas for seed storage and organization.
I've organized this list into two parts. #1-6 are general tips for storing seeds, and #7-27 are some great ideas for seed storage and organization.
Let's get to it!
Seed storage tips
Seeds last a long time. This is something that took me a long time to learn. Unfortunately, I tossed many seed packets at the end of the season, thinking they were expired. I mean, that's what the seed packet says, right? Apparently not. That's just the date at which the seeds are most viable. Seeds can last for years beyond the date on the package. This article shares some common dates for most seeds.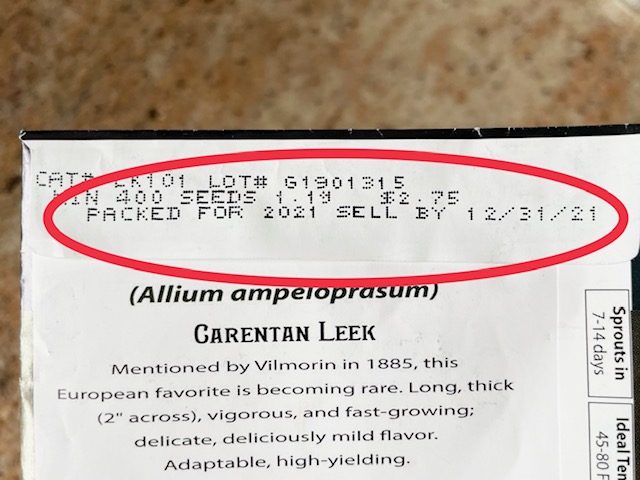 2. Store your seeds in a cool, dry place. You want your seeds to stay in their dormant state when in storage. By being mindful of storage temperature and keeping them in a cool, dry place away from light, seeds will stay dormant and at their freshest.
3. Store your seeds in the dark. Light can lower the viability of our seeds over time and lessen their ability to germinate. It's best to store them in a dark place, like a dark room or cupboard.
4. Make sure seeds are completely dry before storing. Just like light, water degrades the viability of seeds. Keep seeds dry by storing away from moisture and humidity. Silica gel packets are great for storing with seeds to absorb excess moisture. If collecting your own leftover seeds, allow them to dry in the sun for 2-4 hours before tucking away for next year.
5. Don't store seeds in plastic until you know they're completely dry. Moisture inside plastic = mold. Gross. And definitely not something we want with our seeds. If using plastic bags or containers to store your seeds, allow them to sit out until you're sure they're completely dry. Then give them a couple more days, just to be sure!
6. Learn to save your own seeds. Seed saving is a wonderful way to save money on gardening. Buy and plant once and have a continuous supply for the rest of your gardening seasons! This article from Seed Savers Exchange has some great tips on saving your own seeds.
Seed storage and organization ideas
Now let's get into some great options for storing and organizing your seeds
First, it's best to organize by type of seeds, such as vegetables with vegetables and flowers with flowers. After that, you can break them down further by seasons, and then by seed types.
Here are some great storage ideas for seeds:
DIY seed envelopes. Before storing your seeds, check out this tutorial for DIY seed envelopes made from scrapbook paper. DIY seed envelopes are great for gifting extra seeds or storing seeds you collect from your own garden. They can then be stored with store bought seed packets.
Photo boxes. Photo boxes are an easy way to store seeds, and they come in a lot of different patterns and styles. To organize your seeds even further, look for photo boxes that come with divider index cards
Recipe boxes. Similar to photo boxes, recipe boxes are the perfect side for storing seeds. Additionally, they come with tabbed index dividers for organizing seeds by type. This recipe box is metal, which also helps protect seeds from moisture while in storage.
Seed binder. 3-ring binders and photo albums are a great way to organize seeds and be able to flip through your collection easily. To make a seed binder, add 4×6 photo sleeves to your favorite binder or album and slip the seed packets into each insert. You can organize the binders by seed type or season for even further organization.
Mason jars. If you're looking to store your seeds loose in a jar, 4oz jelly jars are a great option for this. The tiny mason jars are perfect for most seeds and can easily be labeled on the lid. I have these jelly jars and use them for all kinds of things, including storing seeds. You can also store packets of seeds in quart size jars.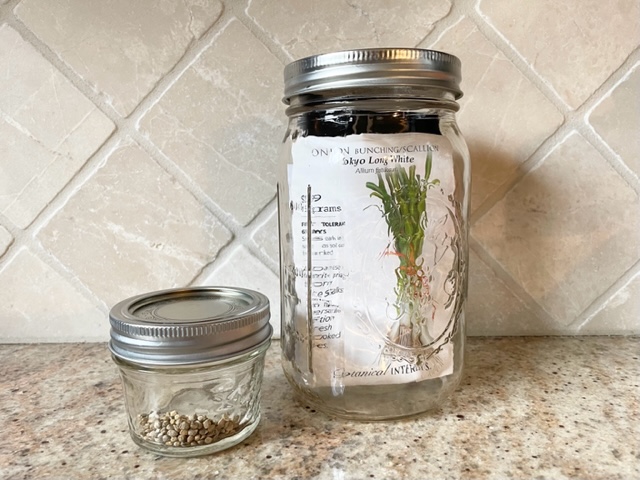 12. Pill organizers. If you have a smaller collection of seeds, pull organizers can be a great way to organize tiny seeds. The tops can be labeled with each variety. This one can hold up to 21 different types of seeds, and comes in its own moisture-proof storage case. Fancy!
13. Spice jars. Spice jars are another glass jar idea that works well for storing seeds. Jars can be labeled and displayed on a spice rack or lazy Susan for ease in finding them later.
14. Small tins. Small metal tins are another easy storage idea if your collection is small. The tins can be labeled and organized by type.
15. Mini glass jars. Similar to mason jars, but the idea here is that any small jar would work. My middle daughter is obsessed with small containers from Michaels and has glass jars similar to these filled with seeds to grow for her hamster (yes. I love that my teen wants to grow food for her pet!) The jars can be store on a shelf or in a box, just be sure to keep them out of direct light.
16. Bead storage containers. Bead storage containers are perfect for storing seeds because beads are so similar to seeds! The individual cells hold each variety of seed, and you can label them on top with a sharpie.
17. Plastic shoe boxes. You know those plastic shoe boxes for storage and organization of all kinds of things? We've used them to store legos, nail polish, first aid supplies. The list of uses is endless. Well, they're also great for storing packets of seeds! I use them to store seeds I'm ready to sow, along with seeds I need to put away. I also have a couple plastic bins full of new seeds until I buy another seed case. Plastic shoe bins are a super inexpensive, easy way to store seeds.
18. Photo storage cases. This is my favorite way to store and organize packets of seeds (a close second are the plastic shoe boxes, but they're much harder to keep organized.) Each case comes with smaller cases that stack neatly inside. It's super easy to grab the ones I need and slip them back inside when I'm done.
19. Plastic food storage containers. Leftover lunch meat containers, and plastic food storage containers for leftovers are a great seed storage idea for packets of seeds, or loose seeds. You probably already have a bunch around your house, and a bonus is that the containers help protect the seeds from moisture. Just be sure your seeds are completely dry before sealing them tight.
20. Plastic bags. A super simple, cheap, and easy way to store seeds is with resealable plastic storage bags. The bags can be labeled with a permanent marker, and you can easily organize them in any way your heart fancies. They're waterproof, as well, and are easily replaced when they wear out or get dirty.
21. Pill bottles. This one I would have never thought of myself. However, I went to my local gardening club's meeting one April, and they had a basket of free seeds. The seeds were in old pill bottles, and I had to chuckle over the practicality of it! It's yet another way to keep plastic out of the landfill!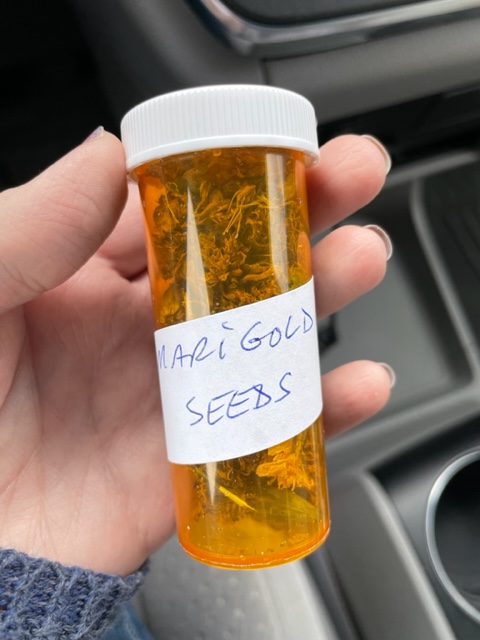 Related:

FREE Printable Seed Starting Chart
How Long Does It Take For Seeds To Sprout
How To Germinate Seeds In A Paper Towel
That's it! Hopefully you have some new ideas for storing seeds, and great ideas for seed organizing. If you have any more ideas, share them with us in the comments!
Seed storing Ideas FAQ
Can I store seeds in ziploc bags?
Ziploc bags are a great option for storing seeds, as they'll keep seeds protected from moisture. They're easy to label and can be kept in a cool place for storage, like a refrigerator drawer.
Should I store seeds in the fridge?

Seeds store best in a cool, dry place. The refrigerator is an excellent place to store seeds to keep them viable for long periods of time. Before storing in the fridge, be sure your seeds are completely dry and in a moisture proof container.
Is it better to freeze or refrigerate seeds?

The refrigerator is an excellent place to store seeds, which need a cool, dry place for long term storage. Freezing seeds can also be done and is recommended for seeds that need a period of cold stratification, such as some milkweeds and coneflowers.
Should seeds be stored in plastic or paper?

Seeds can be stored in plastic or paper. The important thing is to keep them dry. When storing seeds in plastic or glass, be sure your seeds are completely dry before storing.
What is the best container to store seeds?

Plastic is the best container for storing seeds. Plastic keeps seeds dry and protected and can be labeled for organization. When storing seeds in plastic, be sure they are completely dry, and store in a cool, dry place away from light.
As an Amazon Associate, I earn from qualifying purchases
21 Best Tips For Storing and Organizing Seeds