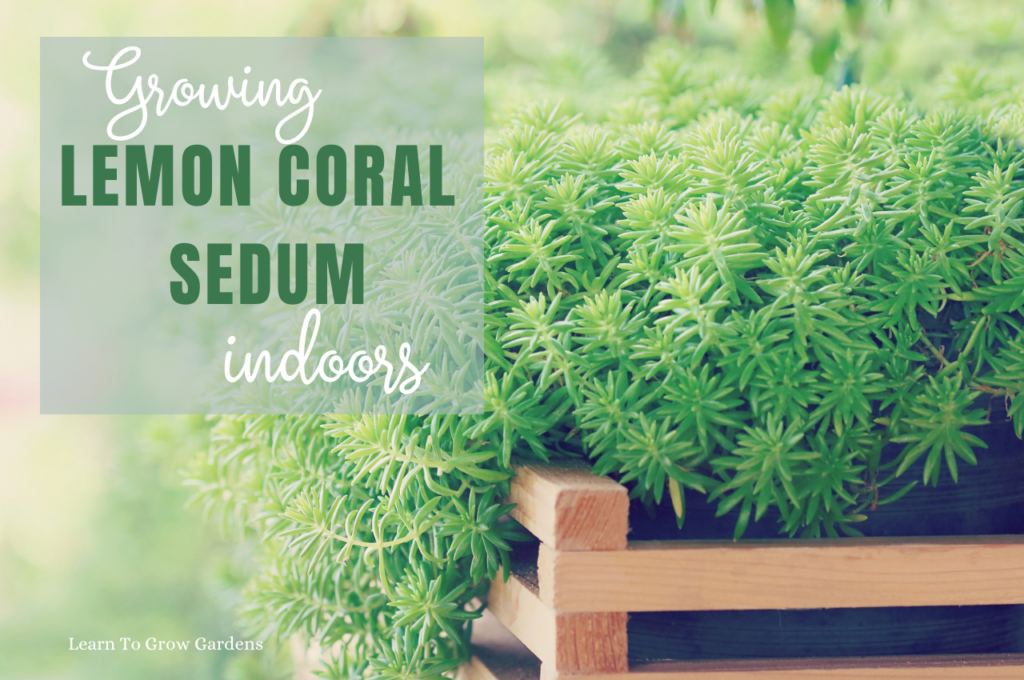 Growing Lemon Coral Sedum Indoors
Lemon coral sedum is a staple in my garden every year. It's drought tolerant, fast growing, and is useful in filling both planters and bare patches in the garden. Lemon Coral sedum (sedum mexicanum) is an annual succulent from Proven Winners, and is a highly versatile plant.
Recently, I decided to try my hand at growing lemon coral sedum indoors. With its chartreuse green foliage, soft needles, and quick, mounding growth habit, I figured it would be a perfect addition to my collection of houseplants.
After a little research, I discovered that lemon coral sedum adapts nicely to being grown indoors. It can also be overwintered under grow lights, and transplanted back out into the garden when the risk of frost has passed (if you live in Zone 7 or above, Lemon Coral sedum will overwinter in the ground.)
Continue reading below to learn how to grow this versatile succulent indoors, both as a houseplant or to overwinter every year.
How do you take care of Lemon Coral sedum?
Lemon Coral sedum prefers dry to medium well-drained soils. It also tolerates rocky soils, and handles heat and drought like a champ. It will also grow in moist soils if they drain well.
Lemon Coral sedum needs full sun to part sun to keep its full, mounding habit. If it receives too little sun, it can become leggy. An area with partial shade is okay, but look for an area with as much sun as possible.
What is Lemon Coral sedum used for?
Lemon Coral sedum is a highly versatile plant, which is why it makes an appearance in my garden year after year. I don't even know where I'm going to put it half the time I add it to my cart at the gardening center, I just know it will find a place and it will do really well in that place. Every year.
Lemon Coral sedum is excellent for hanging baskets or mixed planters, because it has a full, cascading growth habit. I love the look of it trailing over the side of a pot.
It's also great for rock gardens or rock walls. It belongs to the type of succulent plants known as creeping sedum, or stonecrop. Creeping sedums do well in gravelly soils and sandy soils, where most plants fail to thrive.
I have seen it used as a pop of color in the landscape, both in mass plantings or as a bright addition to a garden bed. It's especially striking against perennials with dark leaves, as the bright green foliage provides a gorgeous contrast.
You may also like:
25 Easy Ways To Make Plants Grow Bigger and Faster: A How-To Guide To Growing Happy and Healthy Plants
Seaweed vs Kelp Fertilizer: Benefits and Differences
The Best Water For Plants: A Guide To Water For Plants
Growing Lemon Coral sedum indoors as a houseplant
Lemon Coral sedum is a great choice as an indoor succulent. If grown indoors, the chartreuse color of the foliage will become tinged with red or orange during the winter months.
To grow Lemon Coral sedum as a houseplant, you'll need a well-draining potting mix. I grow Lemon Coral sedum in pots every year with regular Miracle Grow potting soil and it does fantastically. It does not require a special succulent/cactus potting mix to do well, if you're careful to avoid overwatering.
Plant your Lemon Coral sedum in the well-draining potting mix and place it in a sunny window receiving 6+ hours of light per day. If you do not have a window with enough light, you can supplement with a grow light.
When watering Lemon Coral sedum, less is more. Allow the soil to dry out between waterings. Succulents prefer less water than traditional houseplants.
How to overwinter lemon coral sedum indoors
Lemon Coral sedum make an excellent annual for outdoors. It can be used to brighten up areas in the landscape that could use a pop of color, it's a great addition to rock gardens, and it does well in mixed containers and hanging baskets.
If you would like to purchase Lemon Coral sedum once and forever have it on hand in the spring, you can overwinter it indoors.
Overwintering annuals is a great way to reduce your spring planting budget, and Lemon Coral sedum is an excellent candidate for overwintering.
To overwinter Lemon Coral sedum:
1. Dig the plant out of the ground or planter before your first hard frost.
2. Replant it into a small container, approximately 6" across, using an all-purpose potting mix.
3. Give the Lemon Coral sedum a bit of a trim, cutting back most of the season's growth. The foliage will regrow in the spring.
4. Water it thoroughly.
5. Acclimate the Lemon Coral sedum to indoor temperatures by bringing it inside several nights in a row. Return it to the outside in the morning, and continue this for 5-7 days.
6. Keep your Lemon Coral sedum under grow lights in your house, or in a sunny window and water occasionally.
7. In the spring, repeat the acclimation process again by moving the Lemon Coral sedum outdoors every day for a week, and bringing it back inside at night. When all danger of frost has passed, replant it in your landscape.
8. Repeat this process every fall.
Lemon Coral Sedum FAQ's
Can you grow Lemon Coral sedum indoors?
Lemon Coral sedum is a great choice as an indoor succulent. If grown indoors, the chartreuse color of the foliage will become tinged with red or orange during the winter months.
Is Lemon Coral Sedum an annual or perennial?
Lemon Coral sedum is a perennial in zones 7-10, and an annual in zones 6 and below. In areas with mild winters, Lemon Coral sedum can overwinter outdoors with adequate protection.
Is Lemon Coral sedum winter hardy?
Lemon Coral sedum is winter hardy in zones 7 and warmer, where winters are mild. In areas with temperatures consistently below freezing, Lemon Coral sedum is grown as an annual. It can also be overwintered indoors.
Is Lemon Coral sedum an indoor plant?
Lemon Coral sedum makes an excellent indoor plant, with it's soft, needle like foliage and mounding growth habit. Grow Lemon Coral sedum indoors in bright, indirect light and water when the soil feels dry.
Growing Lemon Coral Sedum Indoors